The Blohm und Voss BV 40 was an unpowered point defence interceptor developed by Germany during 1944.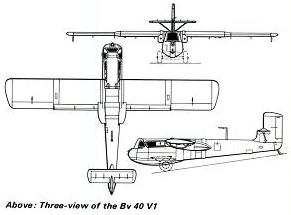 Description
Edit
An extremely small, heavily armed and armoured aircraft, the BV 40 was specifically intended for bomber interception, after being towed to attack altitude by an orthodox fighter.[N 1] Designed by Dr Richard Vogt, the BV 40 was of mixed construction, the entire cockpit being constructed of welded sheet metal, with the pilot occupying a prone position on a padded bench. Armament comprised two 30-mm MK 108 cannon beneath the wing roots, with 35 rpg. The BV 40 took-off on a jettisonable twin-wheel bogie, and, after release by the tow-plane, was intended to attack an intruding enemy bomber in a 20 deg angle dive. Nineteen prototypes and 200 production examples of the BV 40 were ordered, the first prototype, the BV 40 V1, making its first flight test in May 1944. Seven prototypes had been completed when the BV 40 programme was abandoned in the autumn of 1944.[2]
Specification
Edit
Max speed (estimated attainable in a dive), 560 mph (900km/h), (under Bf 109G tow), 344 mph (553 km/h) at 19,000 ft (5,790 m). [N 2]
Empty weight, 1,8211b (826 kg).
Loaded weight, 2,094lb (950 kg).
Span, 25ft 11 in (7.90 m).
Length, 18ft 8 1/2 in (5.70m).
Height, 5ft 4 in (1.63 m).
Wing area, 93.65 sq ft (8.70m2). [2]
References
Edit
↑ 1.0 1.1 Wood, Tony and Bill Gunston. Hitler's Luftwaffe. Salamander Books. 1997. ISBN 0 86101 935 0 Page 138
↑ 2.0 2.1 Green, William and Gordon Swanborough. Complete Book of Fighters. Salamander Books. 2001. ISBN 1-84065-269-1 Page 72