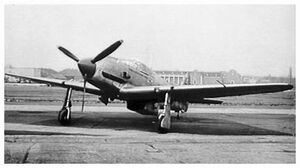 The Kawasaki Ki-61 Hien (Swallow) was a single seat fighter used by the Japanese Army Air Force during World War 2.
Developed in parallel with the Ki-60 as a somewhat lighter general-purpose fighter, the Ki-61 was similarly conceived by Takeo Doi and Shin Owada. Also designed around the DB 601A engine, which was adopted for licence manufacture by Kawasaki as the Ha-40, the Ki-61 was flown for the first time in December 1941. A total of 12 prototypes was built, series production being initiated as the Type 3 Fighter Model 1, the Model 1-Ko (Ki-61-I-Ko) having an armament of two 12.7-mm and two 7.7-mm guns, and the Model 1-Otsu (Ki-61-I-Otsu) having a quartet of 12.7-mm weapons. Later to be named Hien (Swallow), the Ki-61-I was powered by an Ha-40 engine rated at 1,175 hp for take-off. Three hundred and eighty-eight were either converted in the field or on the assembly line to take 20-mm MG 151 cannon in place of the wing-mounted machine guns. The -Ko and -Otsu models were supplanted in production by the Ki-61-I-KAI-Hei with twin fuselage-mounted 20-mm cannon, strengthened wings and modified rear fuselage.
A further development of the basic design, the Ki-61-II, featured an Ha-140 engine rated at 1,500 hp for take-off. Flown in prototype form in December 1943, the Ki-61-II employed a new wing of increased (10 per cent) area and some structural revision. Eight prototypes were followed by the Ki-61-II-KAI which reverted to the standard wing and entered production in both -Ko (12,?-mm wing guns) and -Otsu (20-mm wing cannon) versions. Production being inhibited by shortages of Ha-140s, only 129 Ki-61-II-KAI fighters (including prototypes) were delivered, following 1,380 Ki-61-Is and 1,274 Ki-61-I-KAIs.[2]
Known to the allies as 'Tony', the Ki-61 design was adapted to use a radial engine, resulting in the Kawasaki Ki-100.
Specification (Ki-61-I-KAI-Hei)
Edit
Max speed; 360 mph (580 km/h) at 16,405 ft (5,000 m).
Time to 16,405 ft (5,000 m); 7.0 min.
Normal range; 360 mls (580 km)
Empty Weight; 5,798 lb (2,630 kg)
Loaded Weight; 7,650lb (3,470 kg)
Span 39 ft 4 1/2 in (12,00 m)
Length, 29 ft 2 3/4 in (8,94 m)
Height, 12 ft 1 3/4 in (3, 70 m)
Wing area, 215.28 sq ft (20,00 m2).[2]
References
Edit
↑ 2.0 2.1 Green, William and Gordon Swanborough. Complete Book of Fighters. Salamander Books. 2001. ISBN 1-84065-269-1 Page 318
Community content is available under
CC-BY-SA
unless otherwise noted.