This entry is about the Air Defence version. Information about the Interdictor/Strike version can be found on the Bomber Aircraft Wiki.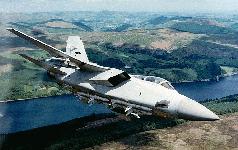 The Tornado ADV is a dedicated air defence/interceptor aircraft developed from the Tornado IDS.
The Tornado ADV (Air Defence Version) was a British developed dedicated fighter derivative of the multi-national (UK, Federal Germany and Italy) Tornado IDS (Interdictor Strike) aircraft, with which it possessed some 80 per cent commonality. Developed specifically to meet an RAF requirement, but manufactured by the Panavia consortium in similar fashion to the IDS, the ADV first flew on 27 October 1979. Three development aircraft were followed on 5 March 1984 by the first of 18 examples of the initial service version, the Tornado F Mk 2 with two Turbo-Union RB199-34R Mk 103 turbofans of 9,656 lb st (4 380 kgp) and 16,920 lb st (7 675 kgp) with max afterburning. Production continued with the F Mk 3, first flown 20 November 1985, with Mk 104 engines (affording higher afterburning ratings). Armament comprised one 27-mm cannon and Sky Flash (4) and AIM-9L (4) AAMs. RAF orders for the ADV totalling 165 aircraft, and a further 24 being ordered by Saudi Arabia.[2]
Specifications
Edit
Max speed: 920 mph (1,480 km/h) at sea level, or Mach 1.2, 1,450 mph (2,333 km/h) at 40,000 ft (12,190 m), or Mach 2.2.
Empty weight: 31,970 lb (14,500 kg).
Max loaded weight: 61,700 lb (27,986 kg).
Span: (25-deg sweep), 45ft 7 1/4 in (13,90 m), (68-deg sweep), 28 ft 2 1/2 in (8.59 m).
Length: 59 ft 3 7/8 in (18.08 m).
Height: 18 ft 8 1/2 in (5.70 m).
Wing area: 322.9 sq ft (30.00 m2).
References
Edit
↑ Green, William and Gordon Swanborough. Complete Book of Fighters. Salamander Books. 2001. ISBN 1-84065-269-1 Pages 462-463